piano movers
Are you searching for the optimum expert PIANO MOVERS in the city of Australia? Then you are in the right place. We ensure that your piano is removed and extradite to your desired location, whether it be your home, office or any other place. Our piano removal is cost-effective keeping in mind the bulk requirement of this service from various clients or with the piano dealers on the weekly basis. SINGH MOVERS brings with them much experience from the past 10 years in the field of PIANO REMOVALS. SINGH MOVERS are famously known in this city as PIANO MOVERS because they believe in providing the quality work to their every client. Our experts who are skilled well in this PIANO MOVERS art have the caliber to endow you with the optimum possible PIANO REMOVAL service within the Australia and also to interstate move as well.
Our PIANO MOVERS are professional in moving variety of pianos including:
GRAND PIANOS
MOVING AN UPRIGHT PIANO
ORGANS MOVERS
PIANOLAS MOVERS
Moving a piano can be stress-free and was easy with SINGH MOVERS. When moving a piano, you must hire a professional and experienced company that assure you with the safe delivery of the piano. Pianos are the pieces of sensitive types of equipment and getting moving a piano by own self can be dangerous and harmful for both you and the equipment too. SINGH MOVERS have years of professional experience as PIANO MOVERS and provide this PIANO MOVING facility undertaking proper safety measures and moving the piano safely and efficiently. The SINGH MOVERS is a perfect platform for the shipping of any types of pianos at the best rates possible for the shipments. You can create a list of what types of services you want and we will list down to you the prices of the shipments charged.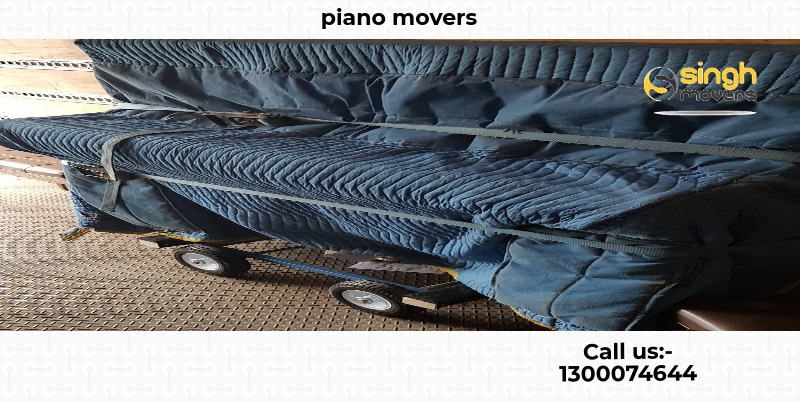 Expectations from various PIANO REMOVALISTS in Australia
But the reason why you should choose us for the PIANO MOVING service. This question is just to answer as to why we are the best for you? You will get everything to know by simply scrolling down:

SINGH MOVERS in the country Australia offer the cheapest rates for almost all types of PIANO MOVING and the other removals services.
Our service is reliable for you and our fit team having years of experience will make you experience the best time that you will have with us.
SINGH MOVERS in Australia believe in endowing the services on time before the client asks that the work is done or not. We are experts who provide quality work to our clients and make them fully satisfied.
Our expert movers can handle almost all types and sizes of pianos with ease.
All our different trucks and vans are well-maintained and also cause no damage to the equipment that is being transferred to a new place.
SINGH MOVERS is fully responsible for every stuff to be delivered securely.
SINGH MOVERS- PROFESSIONAL PIANO REMOVALISTS
As it is very clear from our service and qualities that we will endow you with the superior kind of shifting. Our services include:
No depot to depot charges as we work with you as a family and we don't let your pocket's heavy by charging for any smallest to the smallest thing.
We charge only door to door transportation and shifting of the materials.
We do not even charge for the fuel used in the vehicles used for transportation. We believe in providing the work with the optimum ease.
We are the ensured PIANO REMOVALISTS in Australia. If any type of damage happens to the goods that are in transit we pay up to $100,000 and on the other hand for public liability we give up to $10,000,000.
Professional tools are required for the packing, shifting, and transportation of the goods. Our collection of professional tools include trolley, dollies, heavy duty blankets, toolkit for assembling and disassembling furniture, ropes, shrink wraps, etc. We also have the professional piano trolley and ramps for moving upright pianos.
All of the charges that we charge from our customers are listed in our company's quote and this website. We have no other hidden charges and we clear our customers beforehand with our every service, rules, and regulations.
We are always available round the clock that is we provide you with 24*7 support.
Why you should choose us?
AFFORDABLE PRICE: We provide all of our facilities from the easiest to the toughest at low-cost prices as we believe in doing the quality work for our customers. We are happy with the customer's satisfaction. We work for the name and fame, not for money.
ON-TIME SERVICE: Now this is a question that arises in every customer's mind. Will the PIANO MOVERS provide the stuff on time? Will they do all the required work on the given date? As we told that we are a company who work for their customer's satisfaction and if the customer has given us a time of 7 days, we try our best in providing them the work within 6 days.
RELIABLE FULLY INSURED MOVERS AND PACKERS: We are a company of MOVERS AND PACKERS on which anyone can rely upon for the service of any type of packing or removals. We won't let you disappoint at any stage of the shifting and transportation part. We believe in endowing the superior work to our clients who trust us and hire us for their work.
SECURE SERVICES WITH SINGH MOVERS: Now, the question comes of safety and security. Our professional experts won't let your any material to damage as we shift the goods by undertaking proper safety measures with a proper packing of the materials using bubble wraps etc.
Our company includes almost each and every service that you do not want to go to any other company in order to ask for any other service. We guarantee you the 100% satisfaction and quality work by our team. Our customer care executives are always there for you whenever in you require us.