furniture movers
Are you all looking for FURNITURE MOVERS? You might be looking at that is why you are here reading this article. We all know the troubles you face while shifting your furniture. Removing furniture is a big challenge when it comes to shifting to the city of Melbourne.
We, Singh movers, do all the required planning, packaging, and shifting of your stuff to your other destination point. You can trust us wholly and just hire us to avail the low cost and quality services.
Big cabinets, Lounge furniture, dining furniture, bedrooms furniture etc. is not easy to handle and thus you need to hire movers and packers services. But deciding on whom to hire is the toughest task as Melbourne is a city with lots of movers and packers and various company quotations. So, now it depends on you that whom you hire and how much you want to invest in.
You are reading the article of SINGH MOVERS now and you are in search of the FURNITURE MOVERS. So, we are one of the leading furniture removals in the city of Melbourne who provides quality services at affordable prices. We have the strength, patience and plenty of experience in handling the heavy loaded stuff including all types of furniture and cupboards. Furniture Movers is a big task and is the main part of the house moving. While moving heavy furniture can cause injuries if proper safety measures are not taken. Furniture Movers is one of the searched services and we are experts in this service.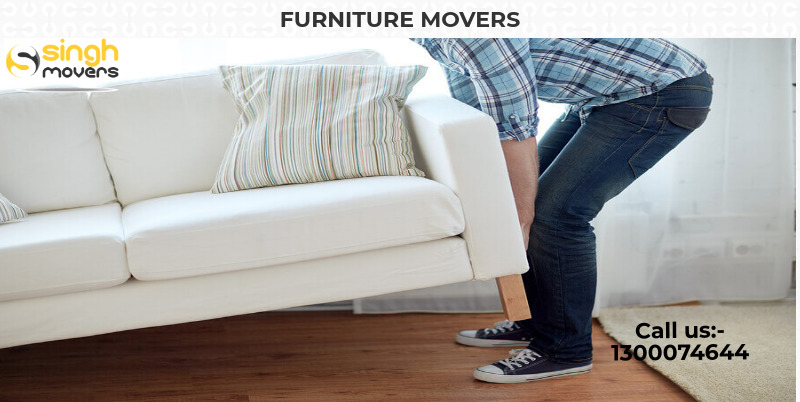 Lifting large and heavy stuff is not a one-man job and requires a professional fit team with years of experience. Allow us to do all the FURNITURE REMOVALS work for you. Our quality removals pieces of equipment help us in providing you with the best services of moving furniture.
SEARCHING FOR A CHEAP FURNITURE MOVERS:
If you are in search of FURNITURE REMOVALISTS INTERSTATE then choosing us is the right choice for you. Even if the moving is of only 4 chairs and one table, we will always be available for the services at your doorstep. We are a specialized FURNITURE MOVERS company and endow you with the removal and relocation services with ease.
We pack all of the stuff from the lightest to the heaviest with bubble wrap packaging, partitions, wooden carts and proper corner packaging to safeguard the stuff from any types of damages. We have a responsible FURNITURE MOVERS team with years of experience and expertise in this service. The efficiency of packaging materials, loading and delivering the goods with swift and on time delivery is what we have and provide to our clients.
You can trust us and count on us for the FURNITURE REMOVALS service. Just feel free to contact us at any time as we are available in your service for 24*7. We are known in the whole of Melbourne for being the cheapest and the best FURNITURE MOVERS services providers. We even endow you with the INTERSTATE REMOVALISTS services at pocket-friendly prices. We are a professional FURNITURE REMOVALISTS company so after hiring us for the same you can have peace of mind and also our FURNITURE REMOVALS team will ensure you with the peace of mind that you deserve. We are also ready in meeting and beating to the prices of any other movers and packers.
SINGH MOVERS PROVIDE TROUBLE FREE SERVICES AS WE:
MAKE PROPER PLANNING AND SCHEDULE
We do proper planning of FURNITURE REMOVAL after seeing all of the furniture items. We plan according to the requirement of the client. We ask for the client's delivery date with the starting of the work date. FURNITURE REMOVALISTS at SINGH MOVERS initiate the process by exploring all of the furniture to be moved. This vindicates us to identify and analyze the required packaging material with wooden crates that are required to safeguard the furniture.
Listing DOWN ALL THE FURNITURE:
After viewing and analyzing all of the necessary details about the furniture, noting down about how much packaging material is required; we list down all the furniture materials that are required to be shifted with our efficient and helpful service.
Scheduling the furniture removal according to the client's requirement:
We provide the client with the freedom of choosing their own suitable timing for the shifting of the items. However, we give you the confirmation call for your time and you should then relax with a cup of coffee while we efficiently pack your all stuff followed by the shifting of the items to the destination place.
CUSTOMER SATISFACTION
As we have already told you our all of the services and the cheap rate services, We, Singh movers believe just in endowing the customers with the best and quality FURNITURE REMOVALS service. However, we have gained name and fame for our cheap and quality services already. Customer satisfaction is what matters the most and SINGH MOVERS are working for the happiness of the customers. Customer satisfaction and feedback are crucial to us. We value our customers and customer is always a king for the company. Call the furniture professionals to avail the mind free service.
We promise to treat your all furniture with full care and no breakage.
We can proudly boast of being capable to endow you with a seamless and stress-free FURNITURE MOVERS service. We serve our clients with expertise and provide them with a relaxed and stress-free FURNITURE REMOVALISTS service in Melbourne with SINGH MOVERS- the leading furniture movers. We do something that our every client appreciates and they recommend us to others also.
We understand that our clients value their furniture, keep it clean with no scratches at all and have memories with the same. In the same way, we ensure you with all such you expect from us. We will value your furniture, with proper bubble wrap packaging we will keep it safe from the scratches and will provide you swift delivery. So, hire us and avail the services of SINGH MOVERS- the leading FURNITURE MOVERS in the city of Melbourne.