office movers
Is moving an office an easy task? Actually, it is not as it requires proper knowledge, tonnes of efforts and also a well trained professional team that can help you out easily in this particular job. However, many think they can do this on their own but this is not an easy job to do as it needs proper packaging, loading and unpackaging of the items you transfer to another place. OFFICE MOVERS are one of the leading demand in this Melbourne city as everyone is too busy with their schedule and always wants to get things done on time. Why are we here? We, SINGH MOVERS are here to endow you with the best and superior quality OFFICE MOVING service that you will never forget for your lifetime. However, there are many OFFICE MOVERS available in this city of Melbourne who will promise you to provide you with the quality services but no one will actually provide you with all of the services like office relocation, furniture removal, storage facility etc. under one shed.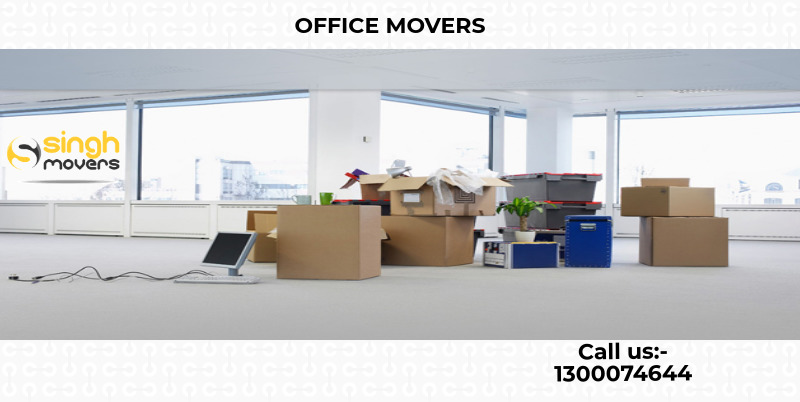 So, SINGH MOVERS is available for you all guys to show their work at the most affordable price.
HIRE SINGH MOVERS SERVICES TO AVAIL OPTIMUM OFFICE MOVERS IN MELBOURNE
Are you in a hurry to shift your office premises? Are you in search of great helpers for this job? Are you worried in order to hire for the cheap and good OFFICE MOVERS? We know all of your troubles and will solve each in just one call. Making the decisions of shifting your office is quite tough as it needs the proper care of even a sheet of paper that is very important for the office. We know that shifting office requires large and heavy equipment including desktops or laptops to be relocated to a new place. Are you worried about how your files of great importance are safe after hiring OFFICE MOVERS? Are you worried about every single pen? Then, you need not to worry as SINGH MOVERS believe in providing quality services. We will help you out in each trouble for OFFICE MOVING. After hiring us, we ensure you the stress-free office move to your new place. We know that you are worried about your every item that it should get no damage. After you hire us, we are responsible for a pin to a laptop safety. We, SINGH MOVERS, have happy customers to whom we have already provided services and they have recommended us to their near and dear ones as they were amazed to see our service. Our work speaks out.
You pay us for the work, we pay you back for your loyalty to us.
So, do not think twice to give us a buzz and get a free quote. You can compare it to any other leading OFFICE MOVERS in Melbourne, we are giving you the best rates and best services.
WHY ARE WE THE MISSING PIECE OF YOUR OFFICE REMOVAL JOB?
We know how hard the task of OFFICE REMOVAL actually is. We completely take all the possible and necessary precautions for the safety of the goods. Also for industrial shifting, we are always available for your service. We take responsibility for small to big machinery. Our OFFICE MOVERS take charge of dismantling and installing the machinery again and provide you with the earlier one with its best condition. Once we get a confirmation call from you, we send our professional team to conduct a survey and analyze things properly. We provide you with a free quote and once you confirm us we start our OFFICE MOVING process.
Why SINGH MOVERS are the best?
We understand your requirement and the security needed in OFFICE REMOVAL. We ensure you with our service to safeguard all the items properly including a pen, file or desktops too.
We provide you with the best OFFICE REMOVAL timings that suits you. We will happily start all the process once you hire us.
Our customer care executive team will provide you with the in-depth detail of every single service we provide and every possible thing you need to know.
Once you confirm that you want to hire us, we will be visiting your office to check all the stuff.
We will analyze every single stuff in order to gather the packaging material required.
After the time is mutually decided, we will initiate our process and will start doing our job.
We will work according to your requirements.
We then pack all the goods with proper bubble wrap and ensure that your goods are safe.
We then load all the goods into vans and large trucks according to the various sizes of goods.
We provide you with swift delivery of the items to your new preferred location of the office.
Again, we are fully responsible for the unloading of items and setting them properly in the new office premises.
We have made various packages that are all budget friendly. We even make packages at the moment according to our customer.
We will offer you all the services at the cheapest price in order to not lay heavy on your pocket. Believe us and hire us for the smoothest OFFICE REMOVAL. We are happy to serve you. If you have troubles in your mind, you can clear them by contacting us at any time of the day or night i.e. we are available for our clients round the clock 24*7.
TRUST SINGH MOVERS IN MAKING YOUR EXPERIENCE GREAT
When it comes to relocating, we are the best choice for you in this city of Melbourne. As all of us know packing and moving is not an easy job and so many Movers and Packers are available but hiring the best and quality OFFICE MOVERS is the toughest task. SINGH MOVERS will always be there at your doorstep whenever you need us. Count on SINGH OFFICE MOVERS to avail the fantastic experience of OFFICE REMOVAL at the pocket-friendly prices. Hurry up clients and do not panic or do not think twice before hiring us.